My friend, Bob, who leads the RCIA program at my church ends the sessions with "God moments." He asks the question "does anyone have any God moments they would like to share?" I had one of those God moments and would like to share it with you.
This morning I woke up far to early, my eyes couldn't focus and my brain was still sleep but I was awake. As I laid in bed wishing I would fall back asleep, logically knowing I wouldn't, I checked Facebook. (My mistake, I know.) As I scrolled quickly through the over night posts, a post from Exodus Cry , caught my eye. They recommending everyone watch Nefarious: Merchant of Souls movie. I quickly pulled up Amazon before I forgot and added it to my watch list. Then the morning proceeded on as usual. After everyone was out the door, dog walked, and kitchen cleaned I decided to "watch" this movie as I worked remodeling this blog. Fifteen minutes into the movie, I closed my computer because I needed to give what was playing my attention. Some of the information was unfathomable at the blase' attitude of people. When the movie was ending I wanted to share the original FB post I saw this morning but couldn't find it. Nothing had been posted on the Exodus Cry page or the Nefarious Merchants of Souls page. Seeing the blurb to watch this movie was a God moment for me.
The past few years I have supported, followed, and helped bring awareness to human trafficking after reading a very disturbing fictional book about this subject. This movie was disturbing because of the simply facts presented of what happens around the world to people. Here in the USA, we like to think our children being trafficked would never happen to my child. It's a fear I have for my kids and their friends. How easy it is to be lead astray. How easy it is to fall prey to the world view of a life. As I watched this movie, all I could think about was how our world has dehumanized people! Our value is placed on the monetary worth and not the simple fact we are all children of someone. Sex Slavery/human trafficking is one facet of this disordered thinking but as I watched the movie I thought what about the aborted babies, the sick, the homeless, or those in prisons. We try to justify our reasoning for helping/not helping based on "but what do they contribute to society? They would just be a drain on the financial system." Here in the US, it's more important for us to defend a woman's choice to abort a child than it is to recognize life starts at conception. The message of classifying who deserves to live and who deserves to die based on our failed human minds doesn't send a message of hope to these individuals being sold by their parents or being used by other humans. If we choose not to protect/want a child from conception until end of life how can we send the message someone trapped in slavery is wanted? By the end of the movie I was in tears. Not the little sniffle tears, but the run down my face. They were tears of sorrow and joy.
Joy? How could a person talk about sex slavery and feel joy. In reality, you can't. BUT as this movie was wrapping up and the people gave their testimonies of what their life was like before, during, after I could understand their joy. Every person who was interviewed had BIG GOD moments which helped heal them. They encountered Jesus, through all their pain, suffering, and misery they felt His love and acceptance. Jesus saw their brokeness, their hurts, their pasts and simply loved them. This past weekend, I attended a small workshop about how to "tell your story" and through this workshop I realized how my story is everyone's story, how we get from point a to point be is where our experiences are different. Our stories start before conception (read my thoughts on that in the Created post) and end at death. What happens in between is our experiences, but hopefully everyone can come to understand: GOD LOVES US. There are no if and or buts, He loves us. It is this message I feel I was called to share more than anything else. Our past is our past but today, now as you read this, we are given chances to begin again, to open our hearts and let Jesus show Himself to us. Be ready though, because if you open your heart to Him He will reveal Himself. He did for me, for those in this film, to many people I know, and so many others. The people in this movie shared the same love and peace I felt. Non-believers will tell you God sets rules and living by His rules means no fun, but living knowing you are loved sets free the chains which keeps us tied to agony, loneliness, and fear.  It doesn't matter what you have done up until now, right now you have a chance to experience freedom like never before. Watch the movie and when you are ready ask Jesus to show you love.
P.S. On the Exodus Cry website there is a list of ways to help support the cause to end sex slavery and human trafficking. One way is through prayer.
Red light prayer: pray for the ending of red light districts each time you stop at a red light. Get the decal to help you remember.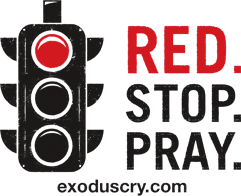 1. Father, we ask that you would protect each child who is living on the streets in Raqqa. Would you place them in families and set them in the safety for which they yearn.
2. God, we ask that the anti-trafficking efforts that are taking place in Raqqa would be successful and that local law enforcement would be able to see the crime and stop it from happening.
3. Jesus we are asking for new anti-trafficking legislation in Raqqa that would foster the protection of women and children and curb the demand for commercial sex.
Let YOUR light shine,
Kim
Comments
comments
Powered by Facebook Comments